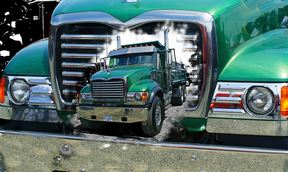 One of the fastest growing truck transport leaders in the driveaway industry, Spirit Miller is centrally located in the heart of the Midwest. Just miles from Kansas City International Airport, Spirit Miller provides quick and professional vehicle deliveries throughout the United States. We focus on all sizes of truck transport and specialize in utility, tree care, cable and refuse trucks.
History
In 1994, Spirit Miller was formed by Howard Miller with a focused strategy for driveaway services delivered with integrity, professionalism and dependability. As a family-owned business, key members of the Miller family oversee production, sales, corporate governance and overall management of the operation. Howard's personable approach to his business, his customers and his employees has created an atmosphere of camaraderie among all employees, whether they bear the Miller name or not.
As a professional truck delivery firm, our success is built not only on Howard's approach to relationships and quality performance, but also on our infrastructure of self-employed truck drivers that operate as sub-contractors to fulfill all of our delivery contracts. We pride ourselves on paying the most competitive rates in the industry to ensure our drivers meet your high quality standards.
Trust
Spirit Miller is focused on ensuring all vehicle deliveries are handled with only the highest level of quality care and according to your timeline. Earning the customer's trust is a critical focus; keeping that trust and loyalty is done only through prompt attention to your needs. With driveaway service representatives in every state, Spirit Miller is ready to tend to your vehicle delivery requirements.
Safety
When your valuable assets are on the road, you want to be sure they're protected. At Spirit Miller Driveaway Services, we value your assets, as well as our drivers, and want to be sure all activities are handled with safety as the priority. With more than 20 years in the industry, our drivers bring experience, expertise and professionalism to the job, and to your truck transport.
Put Spirit Miller Driveaway Services to work for you today.